Visiting Us at Little Hamlet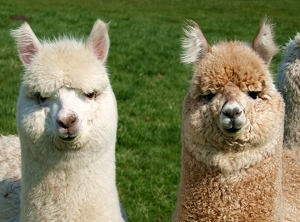 Come and meet Eddie and Ollie and all their friends known as "The Gang" at Little Hamlet Alpacas
Although I am not open to the general public I do welcome the following
1. Those that HAVE adopted who can visit their chosen alpaca with a guest.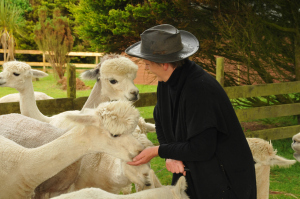 2. I welcome small groups from 2 people up to a maximum of 8 people to a private visit at £10.00 per person Your visit will include learning about these wonderful animals – and interacting with them and a wonderful opportunity to get away from the hustle and bustle of modern life and simply relax surrounded by these amazing Peruvian animals. You can hand feed them if you bring carrots as its their favourite treat.
3. I offer private half day training /educational courses for those who are considering or already own alpacas or simply want to learn more about them at £50 per couple These training courses include learning all about these animals from behaviour to health care and husbandry, farm set up, feeding them and handling the alpacas e.g how to body score, check teeth, toe nails, through to shearing - whats involved and what you can produce from the fleece.
You will learn what is involved in owning alpacas as opposed to many breeders who want to sell alpacas to you that offer training courses and claim alpacas are easy to look after - only need grass - don't need a shelter and they do not get the same diseases as other livestock which is not true.
I have nothing financial to gain from training you as I do not sell any alpacas except I can help you if you do already own them or I can teach those considering owning them as to what is involved in caring for these beautiful animals correctly which hopefully will reduce the constant demand on myself to take in rescue neglected alpacas and reduce the number now sadly offered for free to anyone who will have them.
If you are buying alpacas as a business or as pets then I can tell you what you need to see included in the sales contract and documentation you need to get from the seller.
If you want to be a rehomer and take in those that need a forever home you will learn what is involved and the set up required.
The course will be tailored to suit your individual needs.
Please appreciate that ALL visits must be booked in advance this is because I run Little Hamlet on my own and sometimes it may not be possible to allow anyone to visit due to ill health of one of the herd or I may have a new neglect case that requires my full attention or due to bad weather.
I have a Craft/Gift shop full of lovely goodies that will make your visit even more special.
You can even enjoy a small selection of light refreshments or a cream tea at £4.00 per person.
Please order the cream tea when you book.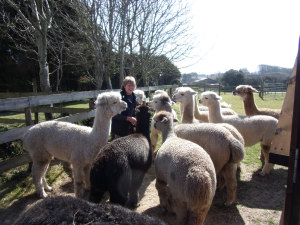 I guarantee you will fall in love with "the gang" and you will leave with a huge smile on your face.
I am located just 5 minutes from the main A30 in Gwennap Pit Cornwall. Full directions will be given.
You can book over the phone on 07949511316 or by email on adoptollie@yahoo.com you can pay by cash, cheque or by internet banking.
I look forward to welcoming you to Little Hamlet Alpacas
WHERE ALPACAS ARE LOVED, RESPECTED AND PROTECTED